BankNewport Partners with College Ave Student Loans to Create Financing Options for Higher Education
12.01.20
Newport, RI. (December 1, 2020) – BankNewport, one of the country's oldest community banks, has partnered with College Ave Student Loans, a leading student loan fintech lender, to offer its customers student loan and student loan refinance products for the first time. Now, through its partnership with College Ave, BankNewport will be able to offer their customers a full suite of private student loan products supported by top-notch service.
The partnership with College Ave Student Loans gives BankNewport the ability to serve the higher education funding needs of their customers and local communities with a trusted partner in the student loan industry. College Ave is known for competitive interest rates, flexible repayment terms and first-class customer service. Additionally, the online application is easy to complete and takes only three minutes. Potential borrowers receive an instant credit decision.
"We're excited to bring our customers smart financing options to help make their education dreams a reality," said Amy Riccitelli, Senior Vice President, Director of Retail Sales at BankNewport. "Through BankNewport's partnership with College Ave Student Loans, students and families from throughout New England can experience a customer-friendly process, from application through repayment, with access to tools and resources to help pay for school.
"College is a big investment for families and where students borrow and how graduates refinance matters," said Joe DePaulo, CEO, and Co-Founder of College Ave Student Loans. "At College Ave, we share BankNewport's commitment to their customers. Through our great products, flexible repayment options and outstanding customer service, we deliver on supporting families and their goals of postsecondary education."
To learn more about College Ave Student Loans and student loan refinancing at BankNewport visit: https://www.banknewport.com/personal-banking/borrow/student-loans/
For students and families looking for ways to navigate the financial road to college, explore the resources, research, guides and financial expert advice at: https://www.collegeavestudentloans.com/.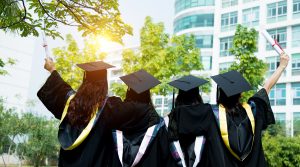 About College Ave Student Loans
College Ave Student Loans is simplifying the student loan experience so students can get on with what matters most: preparing for a bright future. As a fintech lending company with a sole focus on private student loans, we're using technology and our deep industry expertise to connect families who need to cover education costs. By specializing in student loans, we are able to give customers the attention they deserve and deliver loans that are simple, clear, and personalized for the individual.
About BankNewport
Founded in 1819 and headquartered in Newport, BankNewport offers a full suite of loan and deposit products and services for families and businesses throughout Rhode Island. With $2.0 billion in assets, BankNewport is one of the oldest community banks in the United States and, as a mutual organization, is committed to the financial success of its customers, employees and communities. BankNewport has 17 branch locations, with commercial lending offices in Cumberland and Providence.
BankNewport business lines include OceanPoint Marine Lending, specializing in consumer marine and recreational vehicle financing programs, and OceanPoint Insurance, a Trusted Choice independent insurance agency, providing a broad range of property casualty insurance products, including employee benefits and marine related insurance products.