With free Digital Documents from BankNewport, you can:
Receive email notification when your Digital Statement and/or Loan Bill is available

Ability to save electronically or print and file for your reference

Print the front and back of any processed check

View up to 16 months of account history

Ensure secure, electronic delivery of your documents
---
Get Digital Documents with Digital Banking
To enroll in Digital Documents you must be a Digital Banking customer.
Already a Digital Banking customer? Simply select the "Digital Documents" tab on your Accounts page. Digital Documents are also available on our Mobile App.
Not a Digital Banking customer? Enroll today to get Digital Documents and so much more!
Enroll a Person Enroll a Business
---
Digital Document FAQs
What is Digital Documents?
Enrolling for Digital Documents will allow you to receive your entire account statement and/or loan bill electronically in place of your paper statement and/or loan bill. You will receive an email notifying you of when your statement and/or loan bill is ready. Digital Documents are available for consumer and business accounts.
---
Is there a fee for this service?
Your Electronic Statements and Loan Bills are produced in HTML format.  You will need to have Adobe Acrobat Reader to save them as a PDF.  This is available free of charge at www.adobe.com.
---
How do I start receiving my Digital Documents?
You must first enroll online for our free Digital Banking Service. Once you log in with your User ID and Password, you will then select the Digital Documents tab on your accounts page. Here you will read and accept the appropriate eSign disclosure, select View Digital Documents and accept the Digital Documents User Agreement. Once your account statement or loan bill is available, we will send you an email message.
---
How long are my Digital Documents retained?
Your account statements and loan bills will be available through Digital Documents incrementally each month after you enroll in the service. Statements and loan bills will be available for 16 months, and thereafter the oldest statement will be deleted when the most recent statement becomes available.
---
How can I print/save my statement and/or loan bill as a PDF?
BankNewport provides this information as a courtesy. Using this option is not required. Downloading of the software, and its use, are done at your own risk.
CutePDF Writer is a free software program from Acro Software, Inc. that allows the user to save and print PDF documents to and from personal computing devices.
Click the link to read the Terms and Conditions and Legal Notices from Acro Software.
Be mindful during the install process that certain options that are offered are not free and may include a cost.
To download the CutePDF Writer Program:
Launch an Internet browser window and navigate to the www.cutepdf.com website.
Select the top left product option labeled "CutePDF Writer". NOTE: Do not select any of the other options, such as "CutePDF Professional", "Custom PDF Converter", or "Cute-PDF Editor - FREE!".
Within the "CutePDF Writer" square, click on the "Free Download" link shown under the icon.
You will be prompted to indicate where on your computer you would like to save the installation program.
When the installation program has finished downloading, navigate to the location where you saved this program executable & either double-click this to launch it, or choose the "Run" command to execute this.
You will initially be presented with a "License Agreement" dialog box. You will not be able to proceed forward without clicking on the "I accept the agreement" radio button shown under the Agreement text, and then clicking on the "Next" button in the bottom right corner.
You will then be presented with a "Select Destination Location" dialog box. Here you must indicate in which folder you would like to install the CutePDF program. Unless you specifically customize where your computer program files are saved to, the default folder presented should suffice.
Click the "Next" button shown in the bottom right corner.
A "Ready to Install" dialog box will appear illustrating where the CutePDF program will be installed (aka. the "Destination location").
If the noted "Destination" is appropriate, proceed ahead and click on the "Install" button in the dialog box's corner. Otherwise, click on the "Back" button to change the "Destination" folder and you will be required to repeat Step #7 again.
Upon clicking the "Install" button, the program will display an "Installing" dialog box and you will see a green "status" bar within indicating the progress of the installation.
Once complete, the dialog boxes will vanish. Moving forward, if you should ever want to save a web page or online document, you will now have the option of saving this as PDF file by "printing" the document on/to your CutePDF Writer. That is, from the webpage that you would like to save as a PDF file, select the "Print" feature from your browser's menu or tool bar and when prompted for a printer to send the online content to, select "CutePDF Writer" and "Ok". You will then be prompted to indicate which folder on your computer to save your PDF file to and you're done.
To save or print your Digital Documents:
Log in to your Digital Banking account.
Click on the Digital Documents tab.
Once in Digital Documents, go to the document you wish to save.
Click on the "Printable Version" link which will open the document in a new window.
A "Print" dialog box will automatically open allowing you to print the document or save the document.
To save your document, select "CutePDF" or "Save as PDF" as the printer destination and select "Save".
A "Save As" dialog box will pop up. Save your document with the name and location of your choice.
---
Can I view and print my check images with Digital Documents?
Yes, once enrolled in Digital Documents, you will have access to view and print your statement as well as your check images.
I have enrolled in Digital Documents and I'm not receiving my notification that my statement and/or loan bill is ready.
If you are not receiving your email notification, that's because your email address within Digital Banking is incorrect. To check your email address, please log in to Digital Banking, select the Service Center button then select Change Email Address. Once you have corrected your email address, select Digital Documents from your Accounts page then select View Digital Documents.
---
Can I select which accounts and/or loans I receive electronically using Digital Documents?
All accounts that are within Digital Banking will be in Digital Documents once you enroll for the service. You do not have the ability to select certain accounts and/or loans to receive Digital Documents.
---
I just enrolled in Digital Documents; will I see older statements and/or loan bills?
Yes, depending on when you opened your account or began your loan relationship with us, you may immediately see the last sixteen months of statements and/or loan bills.
---
Will joint account holders be able to view statements online?
Yes, joint account holders that are enrolled in Digital Banking will have access to Digital Documents once they accept the Digital Documents User Agreement.
---
Can I have my monthly notification sent to more than one email address?
No, your monthly notification will be sent only to the email address that is listed in your Digital Banking profile.
---
What happens if I change my email address?
You may update your email address by logging in to Digital Banking, selecting the Service Center button, then selecting Change Email Address. This will ensure that you will continue to receive timely notification from us regarding your Digital Documents.
---
How do I cancel Digital Documents?
You may withdraw your consent to receive your Statement and/or Loan Bills electronically by sending us a secure message from within Digital Banking. To send us a secure message, please select the Service Center button; select the Messages tab, then select Compose New to create your message. You may also contact Customer Service at 401.845.2265 or 877.709.2265 outside the Newport County area and one of our representatives will be happy to assist you. Customer Service is available Monday - Friday from 7:00 a.m. - 7:00 p.m., and Saturday from 8:00 a.m. – 2:00 p.m. Once you have canceled this service you will begin to receive your statement(s) or loan bill(s) by mail when the next statement and/or loan bill is ready. You will not automatically receive paper copies of your past statements and/or loan bills once you cancel the service. We recommend that you save your Statements and/or electronic loan bills prior to canceling this service. If you did not save them please contact Customer Service.
---
How will I receive my last statement if my account is closed?
If your account is closed, your final statement will be mailed to you in paper form to the physical address on file.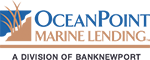 OceanPoint Marine Lending
EXPERIENCED MARINE FINANCING
Present or future boaters can find personalized marine financing programs for new and used boats and refinancing existing boat loans. Competitive rates, dedicated buyer support, quick access to funds, and more.
BNWise
FINANCIAL EDUCATION PROGRAM
BNWise offers the knowledge and skills you need to make the best financial decision for you, your family, or your business.

OceanPoint Insurance
INSURING YOUR MOST VALUABLE ASSETS
Insurance programs to cover any number of personal and business assets with a dedicated staff providing excellent custom service to give you peace of mind. Protect your home, your business, your vehicles, and more.