With Bill Pay, you can:
Pay a person with Zelle
Make recurring payments
Search payees/billers
Rush overnight check payments*
Make bill payments as late as 10:00 p.m.
Group payees/billers together
Schedule reminders/alerts
Disclosure

+
* There will be a fee of $12.95 for expediting Bill Payments. There will be a $30.00 stop payment fee assessed to stop a bill payment that has already been deducted from your account.
---
Keep Track of Your Bills with Digital Bills
Now you can organize and pay all your bills in one convenient location. Our free Digital Bill service is simply an electronic reminder that your bills are due. Your Digital Bill will show:
Amount due

Due date

Payment history

PDF copies of your actual bill
---
Set Up for Digital Bills
To set up Digital Bills, you will need to enroll for Digital Banking and Bill Pay. If you already have Digital Banking and Bill Pay, simply log in, select the Pay Bills icon, and any that are eligible for you to enroll will display. Eligible payees display based on the list of payees you have added and the payee. Simply click Enroll to begin the quick setup. Enrolling in Digital Bills will not stop your paper or electronic bill, unless you request it during enrollment or the merchant discloses that information to you.
If you would like more information, please email us or contact Customer Service at 401.845.2265 or 877.709.2265 outside the Newport County area, and one of our representatives will be happy to assist you. Customer Service is available Monday - Friday from 7:00 a.m. - 7:00 p.m., and Saturday from 8:00 a.m. - 2:00 p.m.
More of BankNewport's Offerings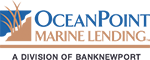 OceanPoint Marine Lending
EXPERIENCED MARINE FINANCING
Present or future boaters can find personalized marine financing programs for new and used boats and refinancing existing boat loans. Competitive rates, dedicated buyer support, quick access to funds, and more.
BNWise
FINANCIAL EDUCATION PROGRAM
BNWise offers the knowledge and skills you need to make the best financial decision for you, your family, or your business.

OceanPoint Insurance
INSURING YOUR MOST VALUABLE ASSETS
Insurance programs to cover any number of personal and business assets with a dedicated staff providing excellent custom service to give you peace of mind. Protect your home, your business, your vehicles, and more.