BankNewport Grant Supports Hope & Main's Nourish Our Neighbors
03.27.23
NEWPORT, RI – March 2, 2023 – BankNewport representatives recently visited Hope & Main, based in Warren, to highlight a $10,000 grant previously awarded through the Bank's All In Giving program in support of  Nourish Our Neighbors, an innovative program that provides meals prepared by local food businesses to support vulnerable populations.
Lisa Raiola, Founder and President, Hope & Main stated, "This program supports lives and livelihoods and we learned through developing Nourish Our Neighbors when you link our local food system with the local food economy, we go a long way towards rescuing both."
Hundreds of meals are distributed weekly through ten community partner sites, with over 50,000 meals distributed since March 2020.  Partnering sites are:  Blackstone Valley Advocacy Center, Bristol Senior Center, Domestic Valley Resource Center, East Bay Recovery Center, Headstart, Hugh Cole School, RICAN, St. Mary's of the Bay, Warren Housing Authority and Women's Resource Center.
"The Nourish Our Neighbors program has been an amazing opportunity to assist our clients in offsetting their food costs and help combat food insecurity," stated Michael J. Abbruzzi, Executive Director, Warren Housing Authority.  "We have received an outpouring of positive feedback from our clients regarding the program, the quality of the meals, variety of meals and ease in meal preparation.  Due to the overwhelming popularity, Warren Housing Authority is finding an increased demand in the meals provided from Nourish Our Neighbors."
"As a true community bank, supporting those who support our neighbors is essential to our mission," said Jack Murphy, President and CEO, BankNewport.  "We are extremely proud of our partnership with Hope & Main and commend their innovative work to ensure that local food insecure families and other vulnerable individuals can access wholesome prepared meals at a time when nutritious food is critical to maintain good health."
Hope & Main is Rhode Island's premier culinary incubator and among the top ten in the country. Since 2014, the organization has helped launch over 450 businesses. Its mission is to empower an inclusive community of entrepreneurs to jumpstart and cultivate thriving food businesses that are the foundation of a more just, sustainable, and resilient local food economy.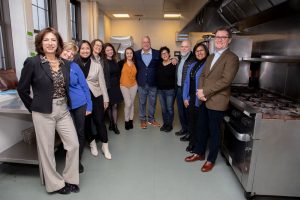 Hope & Main Group Photo Caption (from left to right):
Lisa Raiola, Founder & President, Hope & Main
Kathleen Charbonneau, Vice President, Director of Community Relations, BankNewport
Pin Minyvong, Owner, Pins Kytchen
Sydney Montstream-Quas, Advancement Officer, Hope & Main
Shelby Doggett, Food Systems Equity Coordinator, Hope & Main
Riana France, Resident Service Coordinator, Warren Housing Authority
Paul Marchetti, Executive Vice President, Chief Credit Officer and Chief Risk Officer, BankNewport
Anat Sagi, Private Chef/Event Planner, The Mosaic Table
Michael J. Abbruzzi, Executive Director, Warren Housing Authority
Carmen Diaz-Jusino, Vice President, Community Development Officer, BankNewport
Jack Murphy, President & CEO, BankNewport
About BankNewport:
Founded in 1819 and headquartered in Newport, BankNewport offers a full suite of loan and deposit products and services for families and businesses throughout Rhode Island. BankNewport is one of the longest-standing community banks in the United States and, as a mutual organization, is committed to the financial success of its customers, employees, and communities. BankNewport has 18 branch locations and a commercial lending office in Providence. OceanPoint Marine Lending, a business line of BankNewport, specializes in consumer marine and recreational vehicle financing programs.
Through its All In Giving program, BankNewport is committed to supporting nonprofits with areas of impact focused on basic human needs, children and families, education, economic security, healthy lives, arts and culture, and the environment.  BankNewport has awarded over $8 million in grants, sponsorships, and donations over the past ten years to a wide range of nonprofits to help strengthen and enrich lives and communities throughout Rhode Island. Financial education and community service performed by employees totals 8,500 hours annually.  For more information, please visit www.BankNewport.com.