BankNewport Grants Helping Southern RI Volunteers Provide Critical Services for Seniors
01.06.21
NEWPORT, R.I. (January 6, 2021) – Since the onset of the COVID-19 pandemic, Southern Rhode Island Volunteers (SRIV) has seen the need for the services it provides local seniors aging in place reach unprecedented heights. Since 2016, BankNewport has provided the organization with charitable grants totaling over $30,000 in support of its vital work.
In addition to rising demand, SRIV's network of volunteers has dwindled as many of its dedicated helpers are older, at-risk adults who are minimizing exposure to others amid the coronavirus. 
"People who come forward during a crisis are humbling to me, and BankNewport is a partner that truly wants to help," says Debra Tanner, Executive Director of SRIV. "This crisis has created need among seniors who never before needed help. We're on the frontlines, seeing what's happening to people's lives. We need support and we need the impact of volunteers."
For more than 39-years, the nonprofit SRIV has played a central role in addressing the basic needs of residents in Washington County and the towns of Jamestown, East Greenwich and West Greenwich. Among its core services and Independent Aging Program, SRIV offers assistance with food and grocery and prescription deliveries, and provides transportation for medical appointments. 
"There were months when we couldn't transport, so a lot of appointments were postponed and we need to get folks there now," adds Tanner. "Treatment for cancer, clients with diabetes or eye issues, physical therapy… these appointments can't stop just because there's a pandemic." 
Pre-COVID, the organization also offered errand services, companionship for the homebound and respite for caregivers, and helped coordinate minor home repairs, such as changing light bulbs and fixing faucets, yard clean-up and snow removal. More substantial repairs would be referred to SRIV's partner agencies. 
"These unprecedented times have created the perfect storm for our older adults – many are frightened to leave their home and rely on a little bit of assistance to maintain their independence," said Sandra J. Pattie, President and CEO of BankNewport. "Add to that those who have limited or no family nearby and it's easy to understand both the need and the strain on organizations like Southern Rhode Island Volunteers."
Members of the community interested in helping SRIV and becoming a volunteer are encouraged to contact Debra Tanner at (401) 552-7661 or dtanner@southernrivol.org. Additional information may also be found online at https://www.southernrivol.org/. Likewise, those who know a person that could benefit from services can complete an online inquiry/referral form.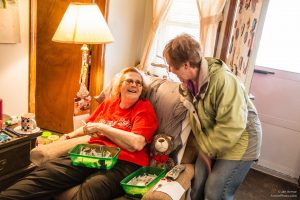 Lindsay and Morgan bagging for senior delivery during Covid-19 response.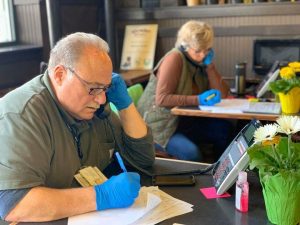 Kevin Sullivan, Board Chair, and Deb taking orders early in the senior grocery shopping service in response to Covid-19.
Claire, a senior client, receiving transportation.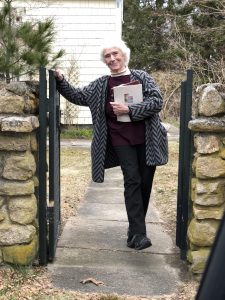 Helen, a senior client, receiving grocery transportation.
About BankNewport:
Founded in 1819 and headquartered in Newport, BankNewport offers a full suite of loan and deposit products and services for families and businesses throughout Rhode Island.  With $2.0 billion in assets, BankNewport is one of the oldest community banks in the United States and, as a mutual organization, is committed to the financial success of its customers, employees and communities. BankNewport has 17 branch locations, with commercial lending offices in Cumberland and Providence. 
BankNewport business lines include OceanPoint Marine Lending, specializing in consumer marine and recreational vehicle financing programs, and OceanPoint Insurance, a Trusted Choice independent insurance agency, providing a broad range of property casualty insurance products, including employee benefits and marine related insurance products.