BankNewport Highlights 2021 Community Investment Contributions over $1.2 Million in Support of Over 350 Local Nonprofits
02.10.22
NEWPORT, R.I. (February 10, 2022) – BankNewport is pleased to announce that its 2021 philanthropic efforts resulted in over $1.2 million awarded to over 350 nonprofits in Rhode Island.  The donations include all grants, sponsorships, community contributions from local branches, and year-end proactive and holiday support totaling $74,000 to nonprofits that meet basic needs for the underserved throughout Rhode Island.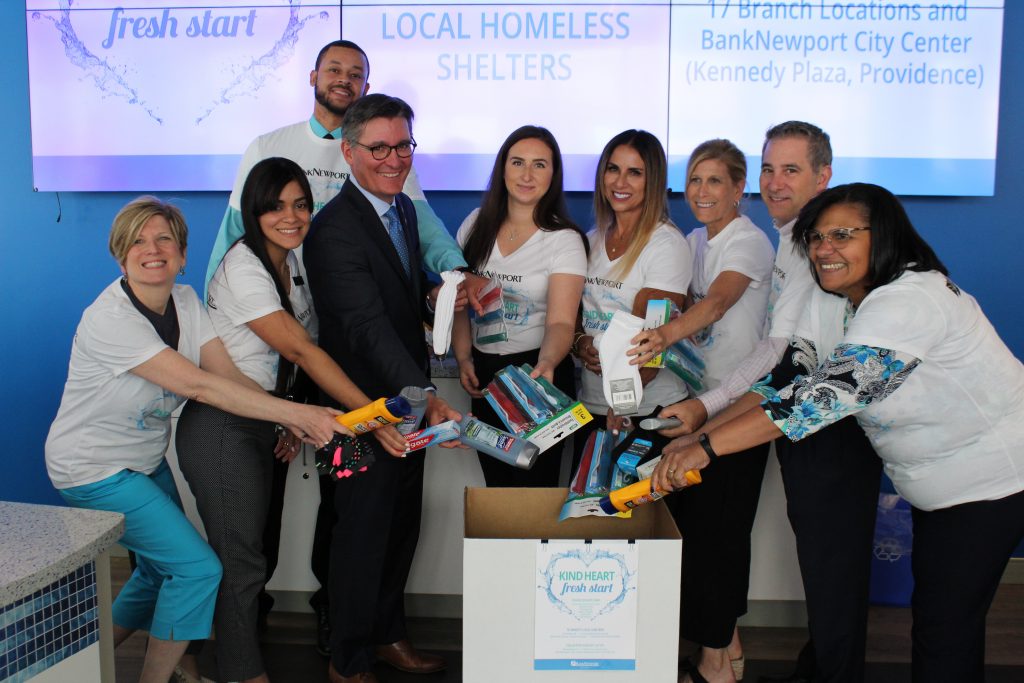 Kathleen Charbonneau, Vice President, Director of Community Relations, BankNewport; Sira Salgado, Senior Universal Banker,
BankNewport's Dorrance Street, Providence Branch; William Eaddy, Branch Operations Manager, BankNewport's Dorrance Street, Providence Branch;
Jack Murphy, President & CEO, BankNewport; Jillian Salome-Rodriguez, UniversalBanker, BankNewport's Dorrance Street, Providence Branch;
Christine Hayes, Vice President, Premier Banking Manager, BankNewport; Wendy Kagan, Executive Vice President, Director of Employee and
Community Engagement, BankNewport; Gregory Derderian, Executive Vice President, Chief Financial Officer and Director of Strategic Analysis,
BankNewport; Carmen Diaz-Jusino, Vice President, Community Development Officer, BankNewport.
"As a true community bank, supporting those who support others is essential to our mission," said Jack Murphy, President & CEO, BankNewport.  "The impact of COVID continued to pose significant challenges over the past year.  We are extremely proud to have the opportunity to contribute to the nonprofit community throughout Rhode Island who perform tireless work to care for those in need."
Organizations in every county of Rhode Island benefitted from the giving effort, with areas of impact focused on basic human needs, children & families, education, economic security, healthy living, arts and culture and the environment.  Over the past 11 years, BankNewport has awarded $7 million in grants, sponsorships, and donations to a wide range of nonprofits to help strengthen and enrich lives and communities throughout the state.
Financial education and community involvement by Bank employees in 2021 totaled over 7,300 hours. Through BNWise, BankNewport's financial education program, over 2,500 students and community members were engaged in interactive financial education presentations on a variety of topics, from saving and budgeting to credit and entrepreneurship, which were made available in-person and virtually.
BankNewport also presented two high profile campaigns generating statewide awareness of food insecurity and for those organizations serving Rhode Island's homeless population:  Kind Souls Full Bowls benefitted the Rhode Island Community Food Bank with a $50,000 Bank gift and over $7,500 raised from the community, and Kind Heart Fresh Start collected over 4,700 personal care items impacting more than 1,000 individuals in need.
About BankNewport:
Founded in 1819 and headquartered in Newport, BankNewport offers a full suite of loan and deposit products and services for families and businesses throughout Rhode Island.  BankNewport is one of the longest-standing community banks in the United States and, as a mutual organization, is committed to the financial success of its customers, employees and communities. BankNewport has 18 branch locations, with commercial lending offices in Cumberland and Providence.
BankNewport business lines include OceanPoint Marine Lending, specializing in consumer marine and recreational vehicle financing programs, and OceanPoint Insurance, a Trusted Choice independent insurance agency, providing a broad range of property casualty insurance products, including employee benefits and marine related insurance products.
Jessica Couto, Vice President/Warwick Branch Sales Manager, BankNewport's Warwick
branch; and Lara D' Antuono, CEO, Boys & Girls Clubs of Warwick, at the B&GC of
Warwick's holiday market.

BankNewport interns volunteering at Dr. Martin Luther King Jr.
CommunityCenter in Newport, Rhode Island.