BankNewport Supports STEAM Education by Providing Sunshade for Outdoor Classroom at Portsmouth AgInnovation Farm
09.01.23
Portsmouth, RI – Sun shading has been installed to enhance learning at the Portsmouth AgInnovation Farm's outdoor classroom with funding from BankNewport. The sun shading provides a safe outdoor space for children to study science and learn-by-doing.
"We are thrilled to support the Portsmouth AgInnovation Farm's mission to foster STEAM education through hands-on learning," said Jack Murphy, President and CEO, BankNewport. "At BankNewport, we believe in investing in our community's future, and this sun shading helps provide a safe and comfortable space  for students to turn their classroom ideas into a thriving reality on the farm."
The idea for the farm started in 2020 as an after-school club by Portsmouth School Department Science Coach, Margie Brennan – teaching about plants, pollination, soil health, the watershed, and much more. The club grew in popularity and Brennan partnered with the Eastern Rhode Island Conservation District (ERICD) to access a six-acre plot of land at Cloverbud Ranch in Portsmouth. The kids took the farm plans they drew in the classroom and made them a reality.
The farm is now a vibrant, interactive learning space, with produce grown on the farm donated to local food banks. There is a pollinator path open to the public, a high tunnel for starting seeds, community gardens, chickens and bunnies cared for by the kids, a microclover pilot program, outdoor classroom, and more. The sunshade provided by BankNewport covers the farm's outdoor classroom, where programming takes place throughout the year.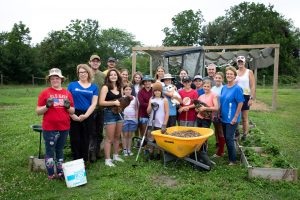 Brennan said, "This sunshade transforms our program availability by providing a safe space out of the sun for the kids to gather and learn – which has been critical during this hot 2023 summer season. The retractable design is also very clever and will make the shading resilient to wind and storms. Thank you so much to BankNewport for their support over the years, including helping us purchase a tractor in 2021!"
For questions, please contact Sara Churgin at schurgin.ericd@gmail.com or. 401-225-6033. To learn more about the farm visit https://www.easternriconservation.org/aginnovation-farm     .