BankNewport Vice President, Business Development Officer Jon Richmond Named R.I. Financial Services Champion of the Year by U.S. Small Business Administration
06.20.23
NEWPORT, R.I. (June 12, 2023) – BankNewport is pleased to announce that Vice President, Business Development Officer Jon Richmond was named the Rhode Island Financial Services Champion of the Year by the U.S. Small Business Administration. Richmond and his fellow award winners were celebrated at a luncheon at Quidnessett Country Club in North Kingstown recently.
"Jon's contributions and desire to help our small businesses in some of our state's most critical industries as they emerge from the financial challenges brought on by the pandemic are extraordinary," said Mark S. Hayward, the SBA Rhode Island District Director.  "We are pleased to recognize Jon as our 2023 Financial Services Champion of the Year," he added.
Richmond joined BankNewport in 2017 as vice president, branch sales manager at the Bank's Portsmouth office and was named vice president, business development officer in 2022.  In his current role, he works closely with hospitality and tourism clients in Newport, Middletown, and Portsmouth, Rhode Island.
"I am honored to be recognized as a financial champion by the SBA," said Richmond.  "As a lifelong Rhode Islander, I've always understood the importance of personal relationships in a state where everyone and everything is so close by.  I am thrilled to have had the opportunity to make a significant impact on the local community – specifically on Aquidneck Island – in my role at BankNewport and I look forward to continuing our important work."
"We are so proud to have Jon on our team," said Jack Murphy, President and CEO, BankNewport.  "His approach to his job epitomizes what it means to be a community banker; he values the role small businesses play in our economy and goes above and beyond to ensure that each of his clients have the resources and support necessary to make their business succeed."
Richmond is a graduate of the University of Rhode Island and currently resides in Bristol, Rhode Island.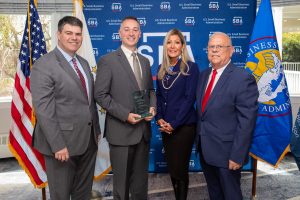 Photo Caption (from left-to-right):
U.S. Small Business Administration New England Regional Administrator Mike Vlacich; BankNewport Vice President, Banking & Commercial Lending Officer, Jon Richmond; RI Society CPAs / RI Business Forum, President/CEO Melissa Travis; U.S. Small Business Administration Rhode Island District Director Mark S. Hayward.
About BankNewport:
Founded in 1819 and headquartered in Newport, BankNewport offers a full suite of loan and deposit products and services for families and businesses throughout Rhode Island. BankNewport is one of the longest-standing community banks in the United States and, as a mutual organization, is committed to the financial success of its customers, employees, and communities. BankNewport has 18 branch locations and a commercial lending office in Providence. OceanPoint Marine Lending, a business line of BankNewport, specializes in consumer marine and recreational vehicle financing programs.
Through its All In Giving program, BankNewport is committed to supporting nonprofits with areas of impact focused on basic human needs, children and families, education, economic security, healthy lives, arts and culture, and the environment.  BankNewport has awarded over $8 million in grants, sponsorships, and donations over the past ten years to a wide range of nonprofits to help strengthen and enrich lives and communities throughout Rhode Island. Financial education and community service performed by employees totals 8,500 hours annually.  For more information, please visit www.BankNewport.com.