BankNewport's "Kind Heart Fresh Start" Drive Collects Thousands of Toiletries & Socks for Organizations Serving Rhode Island's Homeless Population
09.28.21
Donation will impact more than 1,000 individuals in need
NEWPORT, R.I. (September 28, 2021) – BankNewport is pleased to announce that its "Kind Heart Fresh Start" drive collected more than 4,700 items – socks and toiletries – from its employees and members of the community to be distributed to Amenity Aid, Crossroads Rhode Island in Providence, Welcome House of South County, the Woonsocket Family Shelter, and Lucy's Hearth in Middletown. More than 1,000 individuals in need will be impacted by the contributions.
"Kind Heart Fresh Start" was designed to engage customers, employees, and the public to make a positive impact in Rhode Island throughout the month of August. Donations of new adult and children's socks and new/unused/unopened personal care items, specifically toothbrushes, toothpaste, shampoo, deodorant, and bars of soap were collected at BankNewport's 17 branches across the state and the BankNewport City Center in Providence.
"We are thrilled with the success of this campaign and are so thankful to our employees and the greater Rhode Island community for their support," said Jack Murphy, President & CEO, BankNewport. "Our goal with Kind Heart Fresh Start was to support those in need and to provide a reminder of the immeasurable impact a simple act of kindness can have on an individual, and I hope we all keep it up."
In addition to the collection drive, BankNewport and OceanPoint Insurance employees were encouraged to complete acts of kindness at work and in their communities. Dozens of acts were performed and included helping a senior neighbor with yard work and bringing trash bins to the curb each week, donating gently used clothing and children's books, going for a walk and picking up trash along the way, giving out treats and fresh water to dogs on National Dog Day.
BankNewport has a long history of giving back to the local community. In 2020 alone, the Bank's philanthropic efforts resulted in $1.47 million awarded to over 300 nonprofits in Rhode Island.
About BankNewport
Founded in 1819 and headquartered in Newport, BankNewport offers a full suite of loan and deposit products and services for families and businesses throughout Rhode Island. With $2.0 billion in assets, BankNewport is one of the oldest community banks in the United States and, as a mutual organization, is committed to the financial success of its customers, employees and communities.
BankNewport has 17 branch locations, with commercial lending offices in Cumberland and Providence. BankNewport business lines include OceanPoint Marine Lending, specializing in consumer marine and recreational vehicle financing programs, and OceanPoint Insurance, a Trusted Choice independent insurance agency, providing a broad range of property casualty insurance products, including employee benefits and marine related insurance products.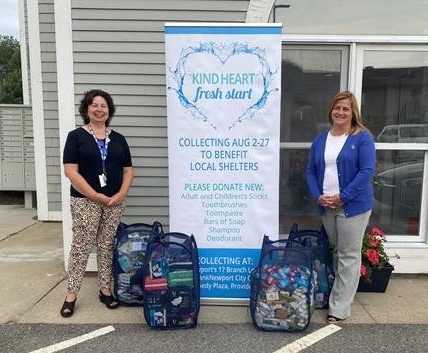 Kelly A. Lee, Executive Director, Lucy's Hearth and Lisa Reed, Senior Vice President, Director of Retail Banking Operations at BankNewport and board member at Lucy's Hearth.
L to R: Amy Riccitelli, Senior Vice President/Director of Retail Sales, BankNewport; Colleen Joubert, Director of Communications & Development, Woonsocket Family Shelter/Community Care Alliance; Julie Solan, Shelter Case Manager Woonsocket Family Shelter/Community Care Alliance; and Mary Leach, Executive Vice President Chief Consumer Officer, BankNewport.
L to R: Christina Taylor, Housing Coordinator, Welcome House;  Lynn Wagner, VP/Branch Sales Manager, BankNewport Narragansett branch; Rachel Fallon, Case Manager, Welcome  House; James Kern, Executive Director, Welcome House; and Nina Luchka, VP/Business Development Officer/Merchant Services Manager, BankNewport.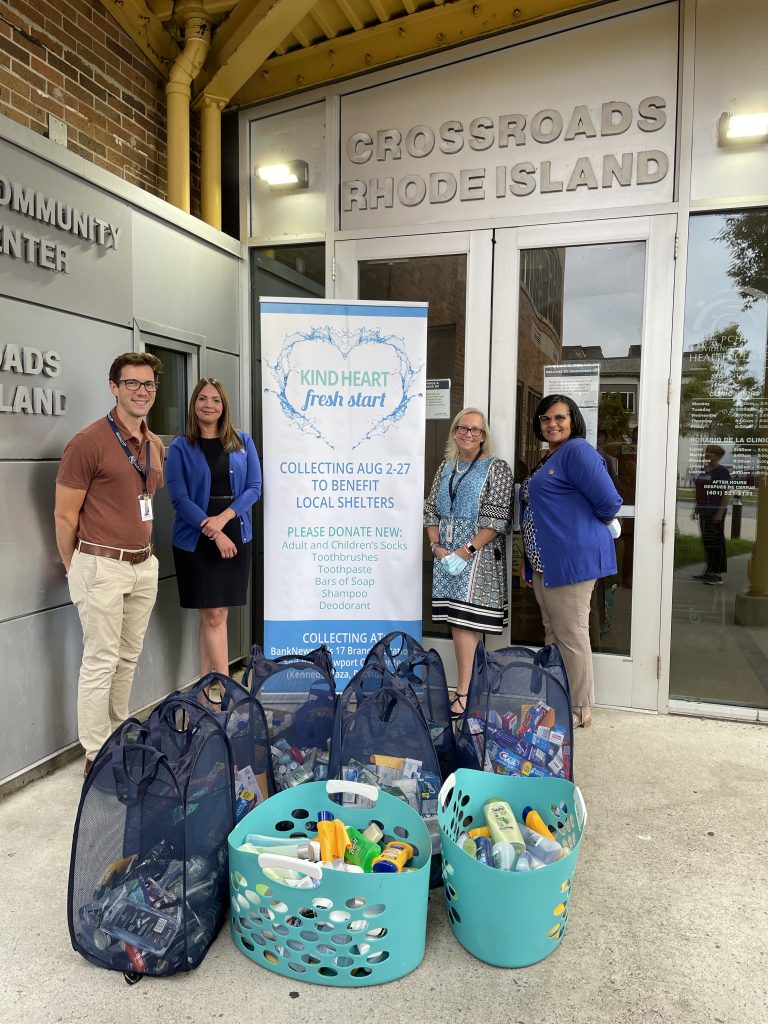 L to R: Ric Wild, Community Outreach & Volunteer Manager, Crossroads Rhode Island; Laura Guillen, Vice President, Branch Sales Manager, BankNewport's Providence branch; Tracey Mahoney, Director, Corporate Relations and Events, Crossroads Rhode Island; and Carmen Diaz-Jusino, Vice President, Community Development Officer, BankNewport.
L to R: Gary Leveillee, AVP/Residential Loan Officer, BankNewport; Liz Duggan, Founder & Executive Director, Amenity Aid; Kathleen Sanderson-Upham, VP/Branch Sales Manager, BankNewport East Greenwich branch