Grant Helps Federal Hill House Expand Early Learning Center, Increase Toddler Capacity
10.13.20
Grant Helps Federal Hill House Expand Early Learning Center, Increase Toddler Capacity
Bank's support provides new furniture and supplies, educational toys, items needed to re-open amid virus
NEWPORT, R.I. (October  13, 2020) – With child care and education among the most integral parts of its work, Federal Hill House has expanded its Early Learning Center, adding space for six more children in its toddler room thanks in part to a $5,000 charitable grant from BankNewport. The classroom, which is dedicated to toddlers 18-months to 3-years, now has capacity for 18 children.
BankNewport's grant enabled the organization to purchase new furniture, including mini tables, cots, area dividers, and changing tables, along with books, educational toys and games. A portion of the grant also helped to support the items needed for the center to safely re-open amid COVID-19. After closing in March, the Early Learning Center opened back up on June 1, adhering to all new health guidelines.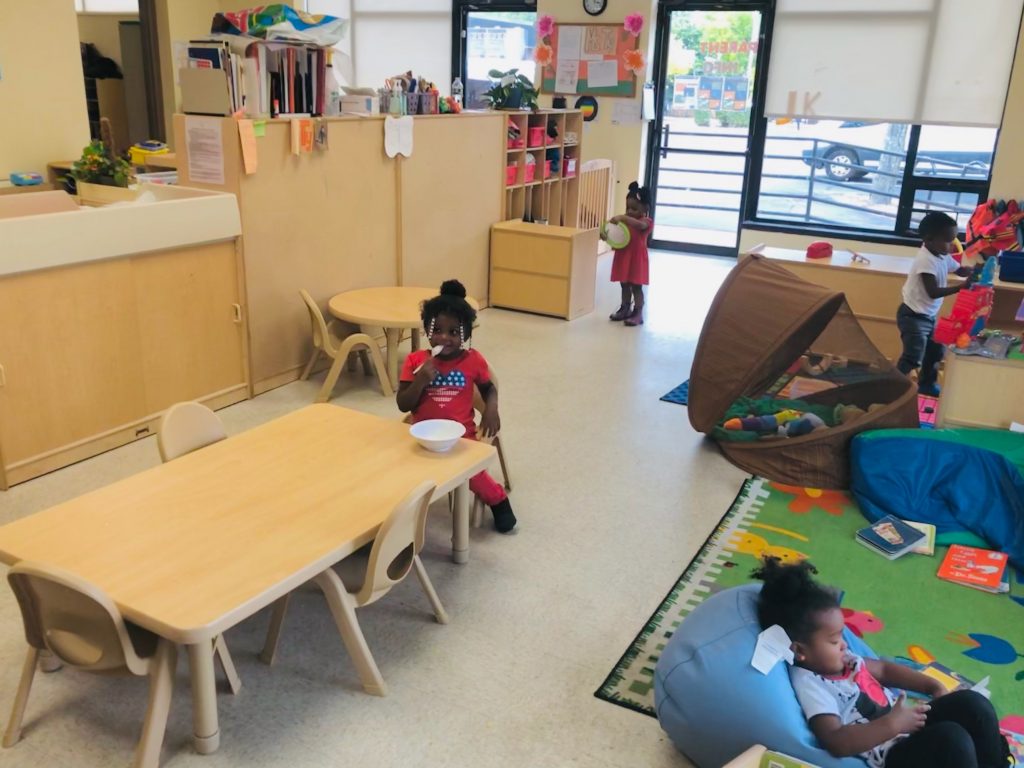 "The need in our community continues to grow, from increased demand at our food pantries and health programs to requests for quality child care," said Kimberly Fernandez, Executive Director of Federal Hill House. "So many of our families are considered essential workers, and it has been a huge deal for them to be able to return to our program. The increased space makes room for more kids to learn with us while their parents work to support their families."
Federal Hill House's Early Learning Center serves children from 18-months through the age of 5. In addition to its revamped toddler classroom, it features two preschool rooms for children 3-5 years-old. Each of those rooms can accommodate 18 kids. In early 2020, prior to the pandemic, the center underwent extensive renovations to create the new space, and later additional changes as a result of COVID.
"We know these are unprecedented times, but we also know that the first three years of a child's life are their most important for brain development," said Sandra J. Pattie, President and CEO of BankNewport. "All children deserve the best environment and program possible, and that's exactly what Federal Hill House offers. We're proud to have played a small part in helping them increase their capacity and create a space that instills confidence in families and reflects the high-quality learning that happens there."
 About BankNewport
Founded in 1819 and headquartered in Newport, BankNewport offers a full suite of loan and deposit products and services for families and businesses throughout Rhode Island.  With $1.9 billion in assets, BankNewport is one of the oldest community banks in the United States and, as a mutual organization, is committed to the financial success of its customers, employees and communities. BankNewport has 18 branch locations, with commercial lending offices in Cumberland and Providence.
BankNewport business lines include OceanPoint Marine Lending, specializing in consumer marine and recreational vehicle financing programs, and OceanPoint Insurance, a Trusted Choice independent insurance agency, providing a broad range of property casualty insurance products, including employee benefits and marine related insurance products.
Through a relationship with LPL Financial, a leader in the retail financial advice market, BankNewport is able to offer access to investment products and services with OceanPoint Investment Solutions*.
*Securities and advisory services are offered through LPL Financial (LPL), a registered investment advisor and broker-dealer (member FINRA/SIPC). Insurance products are offered through LPL or its licensed affiliates. BankNewport and OceanPoint Investment Solutions are not registered as a broker-dealer or investment advisor. Registered representatives of LPL offer products and services using OceanPoint Investment Solutions, and may also be employees of BankNewport. These products and services are being offered through LPL or its affiliates, which are separate entities from, and not affiliates of, BankNewport or OceanPoint Investment Solutions. Securities and insurance offered through LPL or its affiliates are: