Newport Historic Spring receives $100,000 contribution from BankNewport
06.27.22
NEWPORT, RI (June 27, 2022) – BankNewport has made a $100,000 charitable contribution to the Newport Historic Spring to advance the effort to install a public park on the site of the original town spring and the birthplace of Newport. This represents the largest corporate contribution to the project to transform the former Coffey's gas station into a park that pays tribute to the values of religious freedom and tolerance, the founding principles of Newport as the first secular government in the colonial period of the United States.
"We are incredibly grateful to BankNewport for making this strong commitment to the Newport Historic Spring, to the city and every resident and visitor," stated Lilly Dick, chair of the Newport Spring Leadership Committee, the volunteer group working with Church Community Housing Corporation to realize the vision for the park. "This important site remains threatened by inappropriate commercial development until this park is installed, conveyed to the City of Newport, and protected as open space with a conservation easement. BankNewport is an amazing steward of Newport history and the quality of life in our community, they've demonstrated this once again." "In our more than 200-year history, we have been committed to supporting the communities we serve, and we are honored to be part of this incredibly important and historic project," said Jack Murphy, President & CEO, BankNewport. "The Newport Spring park will not only enhance the city for residents and visitors, but it will serve as a lasting tribute to Newport's founding."
After years of careful planning, site remediation, the discovery and study of the 18th-Century spring box, and extensive input by the City of Newport and the public, the vision for this park will become a reality once this $3.5 million phase two is fully funded. A total of $2.7 million has now been raised and the leaders hope to raise the final funding by September 2022 to break ground and begin construction.
To learn more about the Newport Historic Spring, visit www.newportspring.org. To make a tax deductible donation to the project, contact David Guertin at david@vantageinphilanthropy.com (401) 868-0365.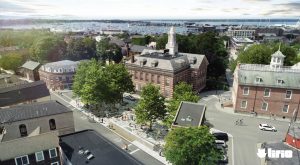 About BankNewport:
Founded in 1819 and headquartered in Newport, BankNewport offers a full suite of loan and deposit products and services for families and businesses throughout Rhode Island. BankNewport is one of the longest-standing community banks in the United States and, as a mutual organization, is committed to the financial success of its customers, employees and communities. BankNewport has 18 branch locations, with commercial lending offices in Cumberland and Providence. BankNewport business lines include OceanPoint Marine Lending, specializing in consumer marine and recreational vehicle financing programs, and OceanPoint Insurance, a Trusted Choice independent insurance agency, providing a broad range of property casualty insurance products, including employee benefits and marine related insurance products.