Siobhan Kits van Heyningen Joins OceanPoint Marine Lending as Vice President, Director of Strategic Projects
08.23.22
NEWPORT, R.I. – (August 23, 2022) – BankNewport is pleased to announce that Siobhan Kits van Heyningen has joined OceanPoint Marine Lending, a subsidiary of BankNewport, as vice president, director of strategic projects. In her new role, she will be responsible for defining, organizing, and planning various strategic initiatives within the marine lending division.
"We are so pleased to welcome Siobhan to BankNewport," said Jack Murphy, President and CEO, BankNewport. "As we continue to build Ocean Point Marine Lending, her knowledge and expertise in strategic planning will be a great asset to our already strong team."
Prior to joining BankNewport, Kits van Heyningen was a senior project manager in the airtime services division of KVH Industries. She was also a banking officer and business and planning analyst at M&T Bank in Buffalo, NY.
Kits van Heyningen graduated magna cum laude from Yale University and earned an MBA with a concentration in finance and accounting from the University of Chicago Booth School of Business, where she was a Wallman Scholar. A native of Buffalo, NY, she currently resides in Newport, RI.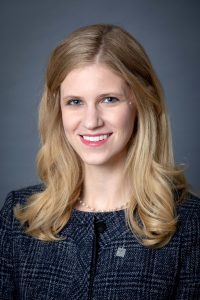 About BankNewport:
Founded in 1819 and headquartered in Newport, BankNewport offers a full suite of loan and deposit products and services for families and businesses throughout Rhode Island. BankNewport is one of the longest-standing community banks in the United States and, as a mutual organization, is committed to the financial success of its customers, employees and communities. BankNewport has 18 branch locations, with commercial lending offices in Cumberland and Providence.
BankNewport business lines include OceanPoint Marine Lending, specializing in consumer marine and recreational vehicle financing programs, and OceanPoint Insurance, a Trusted Choice independent insurance agency, providing a broad range of property casualty insurance products, including employee benefits and marine related insurance products.