We're all in, Rhode Island.
Even in unusual times, we'll always serve your financial needs.
---
Currently, all branches offer Drive Up Banking and ATM/PTM Banking as our primary method of conducting banking transactions.
In-person lobby transactions are available By Appointment Only.
Customer Assistance Program:
Loan Modifications: Effective immediately and until June 30, 2020: BankNewport will waive the late charge fee on Residential Mortgages, Home Equity Loans, Home Equity Lines of Credit and BankNewport Consumer Loans for loans that are not more than 30 days past due.
For all types of BankNewport loans, both personal and business, if you foresee having difficulty continuing to make your loan payments in a timely manner please call our Customer Service Center at 401.845.2265 or 877.709.2265. We may have short term payment deferment programs available for you.

Personal Solutions
We empower you to meet your financial goals with the expertise and suite of services we've designed with you in mind.

Strengthening Businesses
As a trusted business partner, we invest in local businesses. When they thrive, it helps our great state's economy grow and prosper.

Supporting Community
For 200 years, we have been supporting those in need by giving back to local charitable organizations and investing in community development.
BNWise
THE KEY TO EDUCATION IS BNWISE
BankNewport's financial education program, BNWise, offers the knowledge and skills you need to make the best financial decision for you, your family, or your business.
OceanPoint Marine Lending
EXPERIENCED MARINE FINANCING
Present or future boaters can find personalized marine financing programs for new and used boats and refinancing for existing boat loans. Competitive rates, dedicated buyer support, quick access to funds, and more.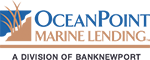 OceanPoint Insurance
INSURING YOUR MOST VALUABLE ASSETS
Insurance programs to cover any number of personal and business assets with a dedicated staff providing excellent, custom service to give you peace of mind. Protect your home, your business, your vehicles, and more.