Digital Banking Convenience
BankNewport's Digital Banking offers you the ability to manage your accounts when it's convenient for you. With Digital Banking, you can:
Access your accounts & Customer Service 24/7

Customize your Digital Banking experience

Set savings goals and create budgets

Open additional accounts

Manage account nicknames
Log In Enroll Person Enroll Business
How Do You Bank?
Desktop & Laptop
Payments
Pay friends, family, and bills with ease.
Transfers
Transfer across accounts and banks.
Digital Documents
Access your Digital Documents.
Account Alerts
Stay in control of your finances with Account Alerts.
Real-Time Payments
Receive instant payments directly to your account at any time.
Bank2Bank Transfers
Bank2Bank Transfers securely move money between your BankNewport accounts and your accounts at other banks, credit unions or brokerage accounts, completing within a few business days*.
Mobile
Take advantage of all the desktop & laptop benefits, plus...
Mobile Wallet
Make purchases with your Mobile Wallet.
Mobile Check Deposit
Deposit your checks conveniently on the go.
Mobile App
Download our mobile app and see all the banking services we offer right on your phone.
Personal Banking Additional Services
More of BankNewport's Offerings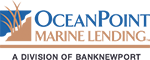 OceanPoint Marine Lending
EXPERIENCED MARINE FINANCING
Present or future boaters can find personalized marine financing programs for new and used boats and refinancing existing boat loans. Competitive rates, dedicated buyer support, quick access to funds, and more.
BNWise
FINANCIAL EDUCATION PROGRAM
BNWise offers the knowledge and skills you need to make the best financial decision for you, your family, or your business.

OceanPoint Insurance
INSURING YOUR MOST VALUABLE ASSETS
Insurance programs to cover any number of personal and business assets with a dedicated staff providing excellent custom service to give you peace of mind. Protect your home, your business, your vehicles, and more.