Personal Solutions
We empower you to meet your financial goals with the expertise and suite of services we've designed with you in mind.

Strengthening Businesses
As a trusted business partner, we invest in local businesses. When they thrive, it helps our great state's economy grow and prosper.

Supporting Community
For 200 years, we have been supporting those in need by giving back to local charitable organizations and investing in community development.
BNWise
THE KEY TO EDUCATION IS BNWISE
BankNewport's financial education program, BNWise, offers the knowledge and skills you need to make the best financial decision for you, your family, or your business.
OceanPoint Marine Lending
EXPERIENCED MARINE FINANCING
Present or future boaters can find personalized marine financing programs for new and used boats and refinancing for existing boat loans. Competitive rates, dedicated buyer support, quick access to funds, and more.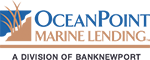 OceanPoint Insurance
INSURING YOUR MOST VALUABLE ASSETS
Insurance programs to cover any number of personal and business assets with a dedicated staff providing excellent, custom service to give you peace of mind. Protect your home, your business, your vehicles, and more.